The DV150F is a new smart camera that was recently announced by Samsung at the CES 2013 and is already hitting shelves. The DV150F features a 16.2 mega pixel camera with 7.76mm CCD sensor and offers 5x optical zoom. Unlike ordinary cameras, it's a dual display camera with a 2.7 inch back LCD and 1.5 inch front display to make sure users can shoot perfect self portraits. It can shoot high-resolution photos with HD video recording of 720p at 30 frames per second.
The DV150F smart camera offers a variety of modes like self-shot, child model, couple shot and jump shot to get optimum quality shooting. It includes smart editing apps that allows users to add actions to photos and to frame pictures, and meanwhile it's a great tool to save photos in various compatible formats. Wireless connectivity makes sure users stay connected to high speed Internet and can upload photos to friends and loved ones.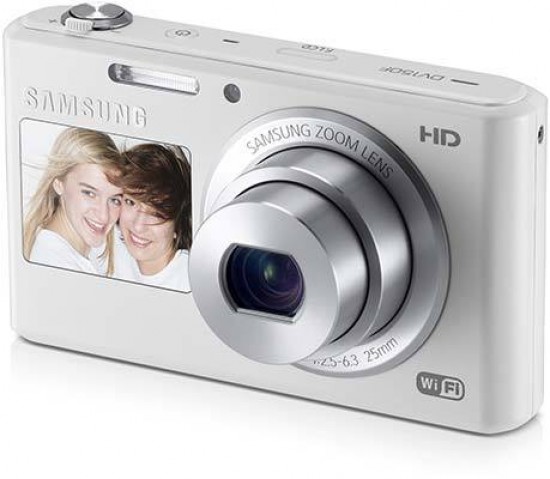 It includes Smart Filter 3.0 to give pictures an animated look and Smart Auto 2.0 automatically senses settings and makes adjustments accordingly. Live Panorama is another great option that allows users to take 180 degree panoramic photos of their favorite landmarks or skyscrapers. The DV150F is a product of the Samsung smart camera 2.0 series and comes with an automatic firmware updater. It supports micro SD cards up to 2GB and SDHC cards up to 8GB.
How Much?
The average price of the Samsung DV150F smart camera is around $149.
Who Would Buy This Samsung DV150F Camera?
The Samsung DV150F is an advanced camera and a great solution for home and family needs. Its dual displays take perfect vanity images and make sure there are no missed opportunities for taking the perfect solo or group shot. Its 16 mega pixel sensor is highly effective and the 5x optical zoom can shoot photos at fairly long distances. It is an all around quality camera with solid hardware and performance and would be great for young professionals and families looking to upgrade.
Things we like about the Samsung DV150F Camera
The Samsung DV150F smart camera has powerful hardware including a 16x image sensor with CCD sensor and a compact dual display at 460 k resolution. It offers a variety of sub modes in every feature such as flash, smart auto, smart filter, sharpness and shooting, which all offer further submenus with niche modes. It has HDMI connectivity and expandable memory, which are also two major benefits.
Things we did not like about the Samsung DV150F Camera
The Samsung DV150F offers many great features yet lacks memory expansion beyond 8Gb and its optical zoom of 5x is really not enough to shoot at greater distances.
 Guarantee?
The Samsung DV150F smart camera comes with a 1-year limited warranty.
Is The Samsung DV150F Camera Worth The Money?
Samsung has priced this smart camera 2.0 series model at $149, which is a very low price given its many advanced features. It's a quality product at a reasonable price makes it more than worth its current asking price.
 Where Can I Buy The Samsung DV150F Camera?
The Samsung DV150F is already hitting shelves at major retail outlets like Walmart and Best Buy and can be ordered directly from Amazon or Samsung itself.
More Customer Reviews For The Samsung DV150F Camera
So far, the Samsung DV150F has remained fairly successful in grabbing the attention of the public and consumers that have purchased this product have been very satisfied with its functionality.