Summers and heatwaves are getting more intense with climate change. The installation of outdoor ceiling fans has thus become a necessity more than a luxury. An outdoor cooling fan can aid in the cooling of the outdoor space and make the heat bearable.
Not only do they help when mother nature is not cooperating, but they also add to the aesthetic of the patio, porch, or the gazebo.
The fans come in different styles, and there is a wide variety from which you can choose.
In this article, we discuss our top 7 outdoor fan picks that will keep you fresh this summer. 
Scroll on and make sure to choose the one that best suits your needs!
Honeywell Duvall 52-Inch Tropical Ceiling Fan
This beautiful hand-carved Honeywell Tropical Ceiling Fan has 52-inch blades made for medium to large sized rooms and outdoor spaces such as a porch or patio. It is energy efficient and is easy to install. It has a reversible motor and is conveniently quiet with four-speed options. It does a great job at cooling. The fan comes with three different options for mounting as well. The traditional pull chains allow easy "on and off" adjustments, but the fan also works with a Honeywell ceiling fan remotes.
Emerson Ceiling Fans CF621VNB
This Venetian bronze fan features a wet location rating, making it suitable to operate in wet conditions. It works efficiently in damp conditions thus can be installed in porch, verandas. This Emerson 52-inch Batalie Breeze fan works optimally under any condition. It is suitable for all seasons. Its lavish Venetian Bronze housing and the Antique Stain Wicker Leaf blades that are weather resistant assure relaxation with this tropically-inspired ceiling fan.
Honeywell Sabal Palm 52-Inch Tropical Ceiling Fan
This Honeywell Tropical Ceiling Fan is hand carved. The design is a classic tropical design that goes well with any interior and will complement almost any space. The fan is easy to install and is energy efficient. Three mounting options are available for this model.
Westinghouse Lighting 7204300 Indoor/Outdoor Ceiling Fan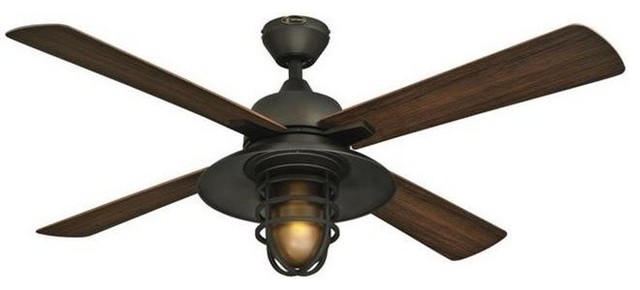 This Westinghouse Great fall is appropriate for wet environments. It is composed of one 10-watt A19 LED Light and has 52-Inch long, Four-Blades. The ceiling fan has a bronze finish. The ABS blades and the cage lantern with frosted amber glass add a coastal style. This fan is made for decks, patios, and verandahs. 
The fan is appropriate for use in spaces up to 360 square feet. It features a silicon steel motor with a triple capacitor. It also includes three fan speeds with a reversible switch to help stay cool in summers and warm in winters. The clockwise rotation recirculates warm air from the ceiling and eliminates cold spots.
The airflow of the fan is up to 4,070 cubic feet per minute. It operates efficiently at 55 watts.
This fan has a lifetime motor warranty with a two-year warranty on all other parts. 
Hunter Key Biscayne Weathered Zinc Ceiling Fan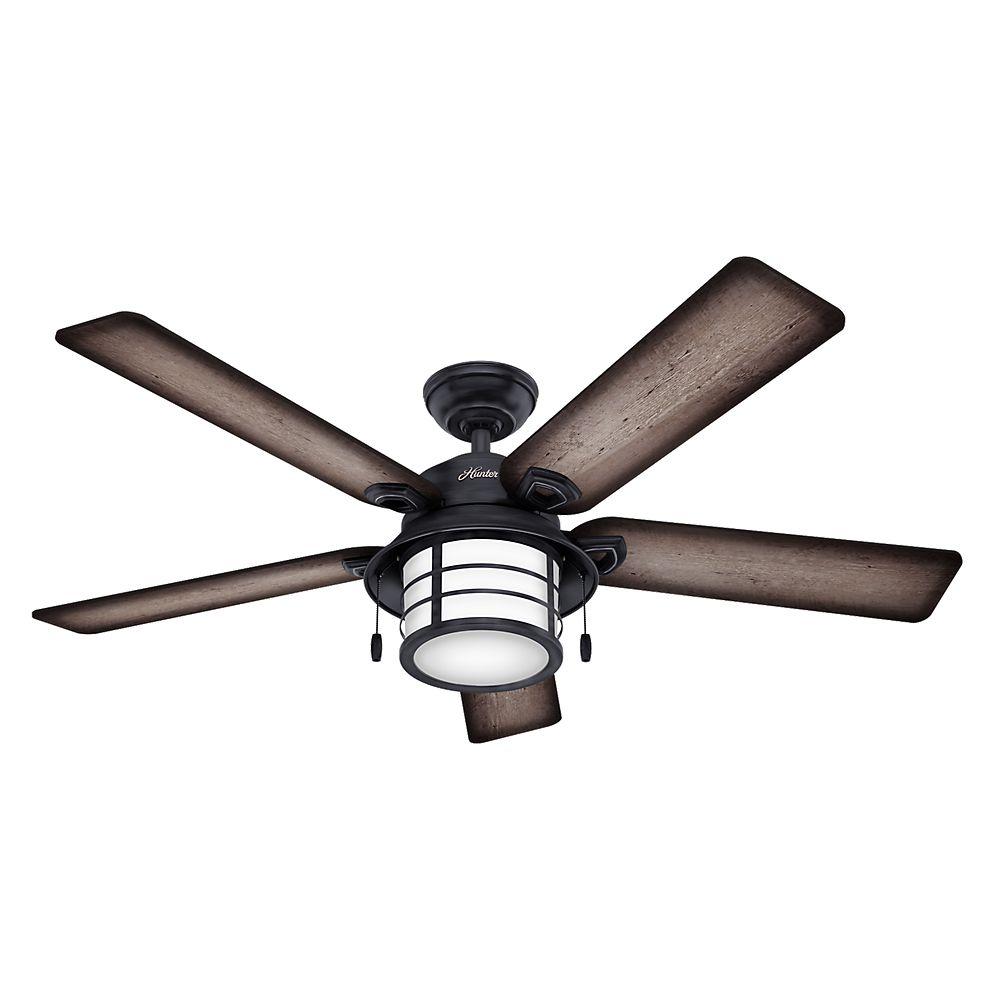 This fan is a combination of both power and elegance. If you are looking for something that has both of these things, this is the fan for you. This zinc ceiling fan features a WhisperWind motor allowing the fan to operate super quietly while providing fresh cool air. It comes equipped with a reversible motor that lets you change the direction of the fan from updraft mode to downdraft mode depending on the season.
The fan is ETL Damp-rated making it suitable for use in covered porches, patios, and sunrooms. Three mounting systems allow mounting at different angles. A pull chain is present for easy turning on and off of the fan and to change the speed. The 13 blade pitch comes integrated with a light kit which is in a white glass casing. Two 14W Standard Medium Base CFL bulbs are also included. This company with 126 years of business in the fan industry offers a limited lifetime motor warranty as well.
Merrimack 52-in Antique Bronze Downrod Mount Indoor/Outdoor Ceiling Fan 
This antique bronze dual fan is a casual looking fan with weatherproof features. This 52′ fan with five blades is suitable to be installed in verandas, patios. It has five java finish blades that blend in with the finished base of antique bronze to make up an understated look. The globe-style light kit comes with three light bulbs and a clear glass shade which provides a sufficient amount of illumination. The maximum bulb wattage is 40. The remote control can be used to create a comfortable atmosphere by adjusting the fan's three-speed settings with the press of a button. Reversible airflow of 5,188-CFM also provides a fresh breeze. This fan is adjustable for different weathers. The suggested room size for this fan is a room up to 400 sq. Ft. 
Home Decorators Collection Kensgrove 72′ LED Indoor Ceiling Fan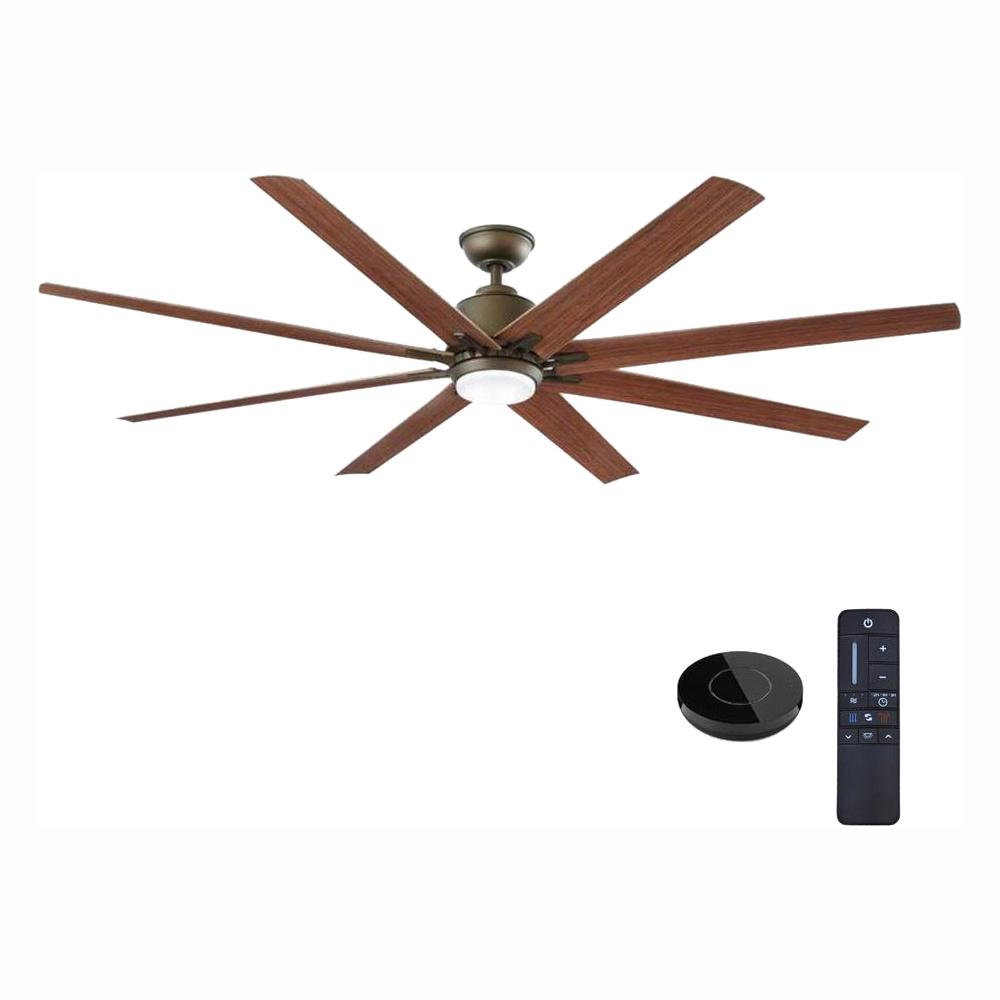 This 72′ fan, with a modern brushed nickel look, is perfect if you are looking for real power and are not constrained to a small space.
It has eight weather-resistant blades that work to create power, yet it is still energy star-rated for low-cost operation.
It comprises of a decorative canopy ring and has a coupling cover that makes sure any exposed screws are covered leaving the fan looking elegant. The DC motor is energy-efficient and comes with nine speeds that you can select from, giving control over the temperature and wind power preferences. There is an additional lightbulb included as well which can come in handy when its dark outside. The remote control allows easy control of the fan settings.